Safe, clean, and reliable energy
The Pori region offers Finland's strongest and most versatile energy environment. By developing the vitality of the industry and achieving our goals related to low-carbon targets, we continue to cement our position as a forerunner in providing leading energy solutions. Heavy investments have been made in the area's energy infrastructure in recent years, which has helped to further enhance the diversification of the region.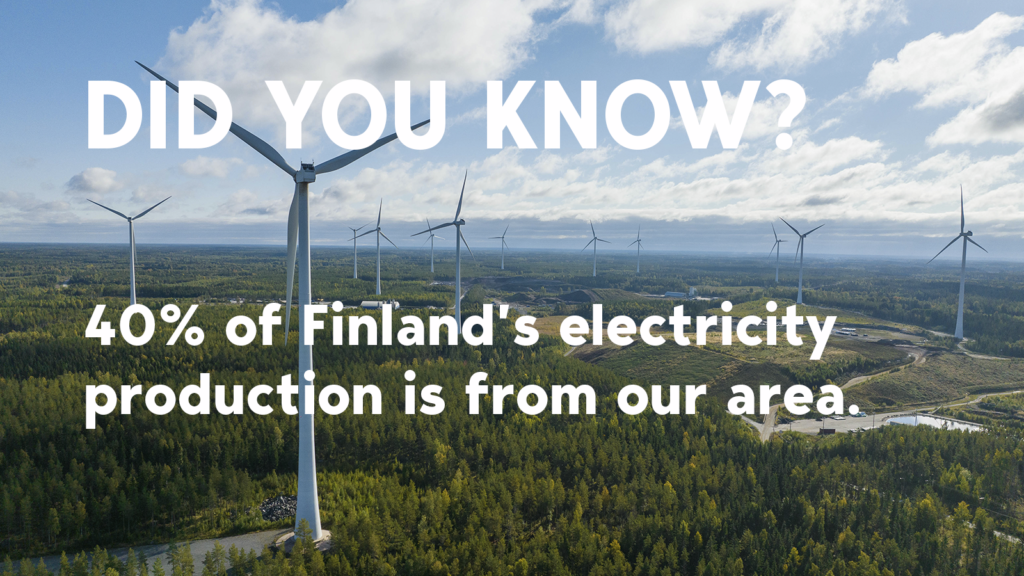 The area offers:
40% of Finland's electricity production
Future investments in renewable energy
An efficient power grid
Several wind farms – including the world's first arctic-ready offshore windfarm
Finland's first LNG terminal
The cluster of the future
Around €1.5 billion worth of future investments in hydrogen technology, solar power, biofuels, and wind farms are currently being implemented. The vast potential of energy technology also creates new innovations and business opportunities. Being Finland's strongest and most versatile energy environment is a significant factor in the appeal of the area.
Diverse know-how
Pori is the capital of Satakunta which has a strong concentration of energy production and is an area where about three times as much electricity is produced than is consumed. We have optimal energy conditions which provide an excellent base for future industry, logistics and trade.
Around 40% of Finland's electricity is produced here, where an efficient and energy-intensive exporting industry can also be found. A modern low-carbon energy environment has been created through the utilisation of a new nuclear power plants, an LNG terminal, an offshore windfarm, solar power stations and industrial energy investments.
A diverse energy supply and extensive know-how give the region's energy-intensive industry a strong competitive advantage. We also want to support green growth and be involved in developing Finland's energy system in a low-emission, reliable and competitively priced direction.
The next steps
We strive to continuously improve processes and develop solutions that decrease environmental impacts. The future of energy in our area is bright, too. Some €2.5 billion in investments for environmental support, the circular economy, and renewable energy is currently being initiated. An industrial-scale bioconversion and biogas plant are planned and, thanks to our favourable location, several investments in offshore and onshore wind farms will be made in the future.
Our existing electricity production has attracted new innovations and investments, and there are now plans to produce green hydrogen and biogas in the Kaanaa district, which would represent a significant increase in the production of renewable gas fuels.
Notable future investments:
Hydrogen
P2X Solutions: Electrolyzer plant (20 MW)
Porin Prosessivoima and Ren-Gas: Power-to-gas plant
Solar power
Pori Portside Areas: Solar power plant (20MW)
Harjavalta Industrial Park (18 MW)
Copper Industry Park: (4.5 MW)
Ulvila solar power plant (250 MW)
Biofuels
BioEnergo: Industrial-scale bioconversion plant (bioethanol, biogas)
Envor: Biogas plant
Wind
Several onshore and offshore wind farms (840 MW)
Other
Pori Energia: Carbon capture plant