Clean and Reliable Energy
The Pori region offers Finland's strongest and most versatile energy environment. By developing the vitality of the industry and achieving our goals related to low-carbon targets, we continue to cement our position as a leading energy environment. Heavy investments have been made in the area's energy infrastructure in recent years, which has helped to further enhance the diversification of the region.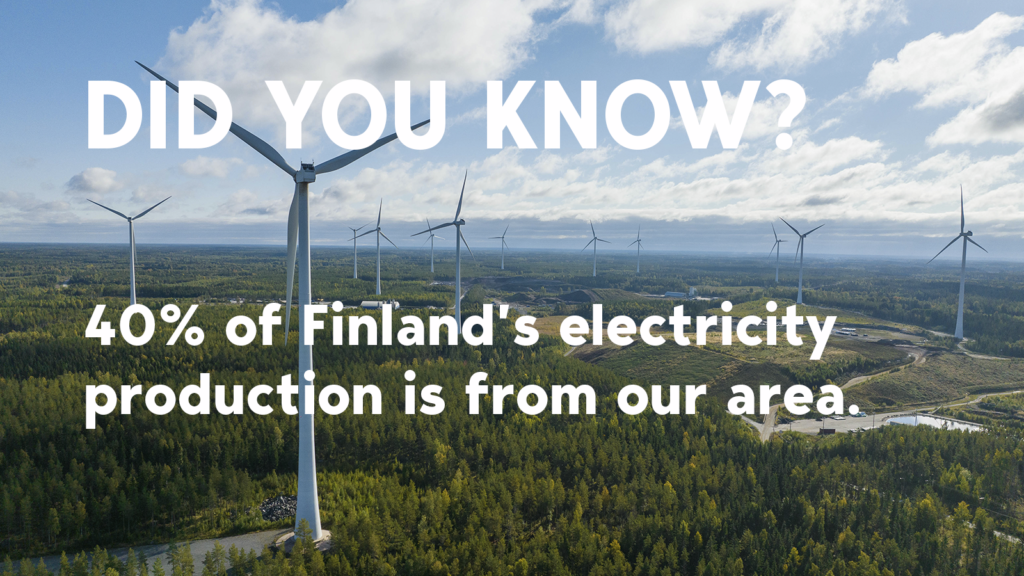 The area offers:
40% of Finland's electricity production
Future investments in renewable energy
An efficient power grid
Several wind farms – including the world's first arctic-ready offshore windfarm
Optimal energy system
A diverse energy supply and extensive know-how give the region's energy-intensive industry a strong competitive advantage. We also want to support green growth and be involved in developing Finland's energy system in a low-emission, reliable and competitively priced direction. We have optimal energy conditions which provide an excellent base for future industry, logistics and trade.
Future is energetic
Around €1.5 billion worth of investments in renewable energy, hydrogen technology and biofuels are currently being implemented. In addition, there are future plans for billion-euro new energy investments. The vast potential of clean and safe energy boosts new innovations and business opportunities. Being Finland's strongest and most versatile energy environment is a significant factor in the appeal of the area.
Recent and Future Investments:
Green hydrogen
P2X Solutions: Green hydrogen and synthetic methane production plant (20 MW)
Porin Prosessivoima and Ren-Gas: Power-to-gas plant
Solar power
Pori Portside Areas: Solar power plant (20MW)
Harjavalta Industrial Park (18 MW)
Copper Industry Park: (4.5 MW)
Ulvila solar power plant (250 MW)
Biofuels
BioEnergo: Industrial-scale bioconversion plant (bioethanol, biogas)
Envor: Biogas plant
Wind
Several onshore and offshore wind farms (840 MW)
Other
Pori Energia: Carbon capture plant